2012 has been a great year for women in Hip Hop. Whether or not you credit Nicki Minaj's major success or not, one thing is for sure she's proved that women rappers are worth the major label investment again. Lola Monroe, Iggy Azalea and Rapsody has made names for themselves by aligning with some of the best men in Hip Hop while others like Azealia Banks and 3D Natee have chosen very different but similar paths. 3D Natee is the  Uptown New Orleans breed rapper that has a way with similes and metaphors that may offend your favorite celebrity with one bar. "What shocks people is that I speak my mind and, in 2012, artists just don't do that anymore," says Natee of her rap style. Working hard on the promo circuit for her latest project The Coronation, Natee took some time out while networking at Mix Show Live Atlanta to talk to MrSoldOut about her influences, the street hustle, what her turn-ons are, and who she would like to be in a music group with. The answer may surprise you.
How did hearing women rapping change how you viewed hip-hop?
Listening to Foxy Brown showed me it was okay to be myself, as far as femininity goes, and still be street. When I was listening to her, she talked a lot about the lifestyle that I was living at the time. I was the young girl selling drugs, in relationships with drug dealers, and running the streets. She was a street bitch yet she didn't have the image of what some people who would perceive a girl like that to be.
With Lauryn Hill, on the other hand, I hadn't heard a song from a female artist as deep "Zion" before the release of her Miseducation[Of Lauryn Hill] album. That album showed me that it was OK to be vulnerable on records. That's why I make it a point to include song's like "Dear Father" (Guess Who's Coming 2 Dinner) or like "Dear Old Me" (The Coronation) where I just completely put my pride aside and speak about things that went on in my life whether it's painful or embarrassing.
Speaking of Lauryn Hill, if you had to form a Fugees like group around yourself right now, what artist would you choose?
I don't know. That's hard but I guess if I had to build some type of group it would probably in some way involve Nas, Jay Z, Miguel, and me. Yeah, I'd have his yellow as singing all our hooks…That's hard, I would never want to be in a group but I would love to work with all three of them.
I'm a big supporter of the female rap movement right now– from your rawness to Rapsody's B-Girl flow, to Azealia's cinematic delivery. Do the comparisons and debates about "who's better" ever frustrate you because you all are so different?
Actually I just heard about Azealia Banks 2 weeks ago when The Source Magazine did that poll on who were the top 3 new female hip hop artist. The poll results named Lola Monroe, Azealia Banks, and me. I haven't heard her music but comparisons don't really bother me anymore. They use to only because I knew how drastically different I am as a person from some of the female artists out right now. Some of them lack the passion or the drive that I have and you could tell by the type of records they release. So being compared to artists that don't take it as serious as I do did bother me. Now I can say that it honestly doesn't. I just grind and try to continue to release great music.
I like your movement now to 50 Cent's "How To Rob" (From the album Power of the Dollar). He came in and shook the game up. No one was safe. Everyone's wondering who's going to be the next victim of metaphorical slaying. Do you think your presence has already shaken the game up?
A lot of people say some of my punch lines have that whole 50 Cent "How to Rob" vibe, but what I feel sets me apart from what 50 was doing is that I don't say things for shock value. What shocks people is that I speak my mind and, in 2012, artist just don't do that anymore. Eminem was the last artist that I remember that was truly uncensored when it came to punch lines. Then again, he seemed to have been doing it for shock value, too. I don't want people to think I'm dissing rappers the way that 50 was. I'm just saying things that are being said all over America about current events. However because one, I'm a female and two, I'm a new artist, other sensitive artists are so shocked.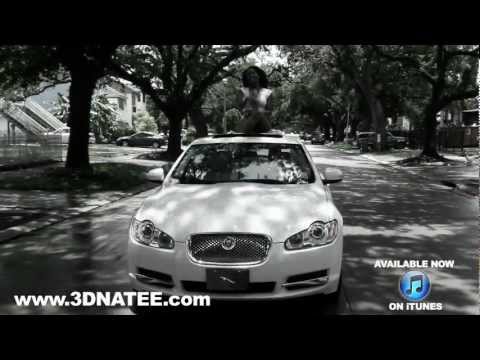 The Coronation is your 5th mixtape, but it's your first with original production. Describe the process of putting this project together.
When I started, I made the decision to make it a "street album" with all original production  tons of producers started sending me tracks and I just started working non-stop. There was a lot of anxiety preparing this project I can't lie. I've heard, "3D Na'Tee can't make an original album. She's a mixtape rapper." So I know I had a lot of shit to prove. People didn't realize that the only reason I was making mixtapes was because I don't have an in house producer. I record myself in my own studio so I would hear the beats then write about exactly what that beat inspired me to write about. As you can hear on the interlude, I worked up to the very last minute my project dropped. Literally.
Outside of the original production, how does The Coronation differ from previous projects?
It's conceptually better and that's a hard thing to say. It was hard simply because I won mixtape of the year for Guess Who's Coming 2 Dinner. I won Lyricist of the Year because of it also. This time around I set out to be lyrically better, so I made songs like "The Book of Revelation," "The Coronation," and "Roll My Carpet Out." I wanted to have club records and I did that with songs like "I Want More" featuring Keri Hilson, "Wild" and "No Love" (which is one of the top 10 records being played on Sirius Satellite XM44). I wanted more introspective records so I wrote "Dear Old Me" and "Wake Me Up." I wanted to showcase more of my storytelling ability so I wrote "Lil Kim" and "Mr. Joey," which also showcased the more wittier and comical side of my music. Then there's the sexy and sex driven records like "Role Play" and "Round 11." I think this project is more well rounded then the others.
I read that your environment was the biggest influence on your music. What's something that's happened that has stood out in your mind the most.
My father's suicide. That influences everything I do. That led to me growing up faster. Not that his suicide was the blame, but I sold drugs because I was the child of a single mother who was on drugs and who's kid's father killed himself and left her alone. Therefore, I lived in an environment that inspired me to write songs like "Dear Father" or like "Wake Me Up."
You haven't been shy about hustling when necessary, how does the street hustle compare to the music industry hustle?
In some ways they compare because they both aren't paths that u should take if you are weak minded and lack ambition. On both ends, there is always another person plotting to take your spot because if you hustle or rap well enough to keep fiends or fans, other people trying to get in you position will become envious. However, they differ because hustling for me was not fun. Hip Hop is fun. I can stack money and enjoy life with Hip Hop. I was arrested and am now a felon because of guns and drugs. Let's just say that the rap game is way admirable.
Let's talk about "Switch." What you did with that song hasn't been done to my knowledge, what made you take that approach?
The song "Switch" came about because I was choosing industry tracks to rap over for Guess Who's Coming 2 Dinner and realized that I had more Timbaland tracks than anything. Tim is one of my favorite producers but I could have a whole mixtape filled with his tracks, so I ended up making snippets of all the Timbaland tracks and making mixing them into a 5-minute song. The lyrics just came. It was really a process I can't explain. Then when I shot the video it just brought the whole record to life.
Was the ultimate goal always to get Timbaland's attention?
Nope. I never thought he'd even see it. My goal was just to make a great song. The fact that it gained Timbaland, Missy, & Justin Timberlake's attention let alone gaining new fans was unexpected.
What was that conversation like when you first talked to Timbaland?
When I pulled up to the Hit Factory in Miami Tim and Missy were standing outside. As I got out the car I could hear him saying, "that's her." They introduced them selves and then he told Missy, "You have to see her video. This was they girl I told you about from YouTube. You got to see her. She is nice." Then that first night he called everybody into the studio, had me plug up my iPad, and we listen to my music for almost an hour straight. When he heard "Dear Father" he played it back 6x and said, "You are the best f*cking rapper on the planet." I'll never forget that.
Of course you ended up turning the deal down offered by Mosley. Why did u turn it down and what did u learn from that experience.
First of all, it wasn't just a deal with a production company. It was also a management deal that was being offered in conjunction with the deal. That was what I mostly had a problem with so it wasn't Tim's fault. I learned a lot about myself during that situation though. A lot of up and coming artist would have taken anything offered on the management side, just to be close to Tim. Especially coming from where I'm from. I mean, I could of gotten lazy, partied hard, and became a "yes man/woman" but I wasn't in to that. I was thinking about my future and not the present. I was treated very well, so it wasn't a personal decision. There were just things in the contract that wouldn't have been beneficial to my future in the long run as far as management. Tim is a great man, not just a great producer, so I will always respect him and some people in his camp.
On a lighter note, obviously most of the guys on Twitter want to know if you're single? LOL
Ha! Yeah, sometimes I'm single [Laughs]. Nah, I have a dude that's like my best friend. [He's] Always there when I need him, especially when I really need him [Laughs]. But I don't call it a relationship. I'm too focused to put a title on things, you know? When you become somebody's girlfriend, seems like things change. Like they get comfortable and forget what they did to get you. Therefore, they don't know how to keep you. I don't know, maybe I need to be tamed [Laughs].
What turns you on the most about a man?
Intelligence. I mean, I love men that are handsome and in shape like Mike Vick, LaRon Landry, or Ocho Cinco– even though he's head butting b*tches– but that is definitely less important than a man with intelligence. A man with drive, ambition, goals, integrity all of that turns me on. Plus I'm very sarcastic and I joke a lot. So I love a witty man that can joke back and keep me laughing. Plus he has to know how to f*ck me good like his life depended on it [Laughs]. Hey, I'm just being honest.
What's something you could never leave the house without?
My cell phone. Hands down.
High heels or Jordan's?
My boy is a Jordan fanatic. So whenever he buys Jordan's he gets a pair for me… But I'm a heels girl. Definitely heels.
If you were stuck on a deserted island and could only listen to one album (in addition to yours) what would it be?
If I already have The Coronation, maybe Biggie's Ready To Die album.
If someone came up to me and asked, "Who is 3D Na'tee?" what would you hope would be the first thing I say about you as an artist?
She's one of the greatest and if you don't believe me, visit 3DNATEE.com and get her mixtape The Coronation or download her FREE cell phone app from the Android Market or the App Store.
What a Plug [Laughs]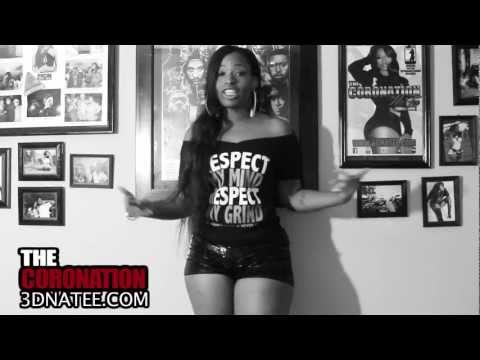 Latest posts by Queen Bobbi (see all)