What are Brooklyn guys like?  After a quick Google search (we know there's nothing Google can't answer) I've learned that Brooklyn guys are hustlers with a lot of "swag" and are big charmers. Yet, here I thought that it was just my southern gal personality that got Brooklynite Troy AVE to join me in a very candid conversation.
The success of his latest effort Bricks In My Backpack 3 has Troy AVE now rapping for a purpose and more motivated than ever, "Now it actually matters; the things that I put out people actually pay attention to it… Now it's all about capitalizing and monetizing what we're doing."  In what began with a story of Troy Ave's experience in my hometown of Houston TX– having a friend that was shipped to the bayou city because of disciplinary issues– Troy Ave and I freely discuss stigmas on street rappers, Twitter rumors, differences between Brooklyn and Houston women, why he doesn't listen to rap and what's next for the former drug dealer (allegedly). He even asked me if I had a cake; does it get any more frank than that?
What's the difference between the Brooklyn women and Houston women?
Houston girls… it's a lot of "bad bitches" in Houston. New York has some of the best women in the world, but Houston women has those fat ol asses that men like. She's just going to have a fat ass, ain't no doubt about it [Laughs]. All that corn bread and Pappadeaux ya'll be eating.
Pappadeaux is definitely the must-go place when you come to Houston. And the girls do have fat asses, I must say…
Do you have a fat ass?
I have a little something. I'm surviving.
Are you being modest?
I'm shy. [Laughs] I was checking you out on Twitter and I see you were pretty distraught about the Tupac situation [snitching allegations]…
Oh, I didn't like that
So were you serious about him no longer being your favorite rapper?
Yes. He's not my favorite rapper of all time; he's up there with Biggie – I'm from Brooklyn so you know Biggie up there. All Eyez On Me was my favorite
album of all time. But he's definitely not number 1 anymore.
How could you just flip the switch off like that?
That's how I am. Coming up in the type of environment that I'm in and live the life that I live you have to be able to turn on and off. If not, you'll end up getting yourself hurt. If you show love you have to show all the way love. If you show hate, then you show that. There's no grey area.
Keep it all the way authentic, or not…
Yea. It's not like I don't like Tupac's music anymore. It's like having an actor, say Denzel Washington, you know he's not the guy from Training Day or John Q. He's just acting but you can still enjoy the movie. But, Tupac f*cked me up.
Speaking of authentic, how do you feel about the Nas [ghostwriter allegation] situation on Twitter?
That sounds foolish. Why would he? I can see how somebody can misinterpret that. If someone writes a hook for you, that don't make him or her a ghostwriter. It doesn't make any sense for Nas to have a ghostwriter at all.
Watch Troy Ave's latest visual off Bricks In My Backpack3 "De FACTO"
What was one of the first songs you heard that made you get into rapping?
Anything off 50 Cent is the Future, or "Rotten Apple"
Many artists kind of model their career after artists before them. Are there any artists that would be your ideal success to meet and surpass?I can't model myself after anyone because my situation is different than a lot of people. I'm like one of the most successful artists out of the streets to be rapping and be good at it. You have someone that's successful in the street and have a lot of credibility but there music sucks. Or, you have somebody who has great music but no street credibility; they're lying about a life that they're not leading. So I've already started differently, just have to see where it takes me. Sky's the limit though.
I ask because I recognize a lot of Jeezy infused with some early 50 Cent. 
Those are all artists that I listen to so you may hear those influences. That's why I try not to listen to rap music constantly. If you do you'll start to rap like the music that you're around in your subconscious, know what I mean? So I just listen to the sound of what's going on in my hood and what my niggas and me are doing. That's why I have my own style – that's me – and that's New York City. And that's Dope.
That's dope. There's this stigma that "street rappers" careers don't last long, with the exception of Jeezy. Usually because their environments change and they no longer have that hunger. How would you maintain the balance of speaking street life and keeping it real?
If you were really hustling in any type of way, you're not going to lose that hunger; you're going to keep hustling because you always want more. My first truck was a Chevy Tahoe, and then I got my money up to get a Volvo S80 joint. Then, I wanted a F150, and then I got my money up to get a Mercedes Benz CLS550. So it's not in me to lose the hunger; I'm always going to want more.
Rap is just the new hustle. Now I want to get me a Ferrari [Laughs]. I want a bigger house, I want more b*tches [Laughs]. I'm not going to lose hunger. A lot of times people just get comfortable, "Alright, I got this record out right now Imma chill" and somebody jump in your lane.
I'm a believer that timing is everything with music. Seems like we are missing the rawness of say a Young Jeezy or 50 Cent or "Traphouse" Gucci Mane. So I have to ask about your current label situation; any deals lingering or are you still spending more money than you are bringing in?
I'm still spending more money but I got some deals on the table. I just flew in from LA about a record deal. I'm at the point where the labels are coming to me, and that was all a part of the plan. Everything is going according to plan.
How would you describe your progress from Bricks In My Backpack 1 to 3?
BIMB 3 is a total body of work. There hasn't be anything to drop that's f*cking with that this year. It's not a lot of albums that's come out that you won't skip any songs. Pitchfork gave a 10 to Coldplay (only giving out three 10 ratings); a 2 to Kid Cudi's album, 6.8 to Rick Ross' album and those are all major label albums with major budgets. And then they gave my street album with a street budget, producers I paid out of my own pocket, promo I did out of my own pocket a 7.5. That lets you know the magnitude of the type of shit that I'm doing; high quality, street music.
Pitchfork is known for having a fair rating system. What are the streets saying about Brick In My Backpack 3?
Dope. Amazing. Crazy. You see I'm getting an interview with you. I had 2 joints out before this and I never got an interview with you on Radio's joint. That let's you know what the reaction is; it's undeniable. Flawless.
So now that the trilogy is over, is this the end of Harry Powder? Is there a new aka?

May be another one. Depends how I feel. That's the dope part about being independent; you can do what you want. I'll call it the DJ Radio album if I want [Laughs].
What is the powder life? How does one live the powder life?
When you are able to do the finer things in life that you wouldn't ordinarily be able to do. You're able to that because you have financial comforts off of powder. If you were a teacher you'd be living the public education life. Or a garbage man would be living the sanitation life [Laughs].
So are you living the powdered life, or nah?
[Brief silence] You see my videos [Laughs] that's a rhetorical question right?
Yes, you weren't supposed to answer that — good job.
Allegedly [Laughs]
What are some things we can expect from you in the future?
Expect for me to put out dope visuals, promoting this album, new music. You'll hear progression in all my music. I'm just going to keep getting better and getting hotter in the streets and on the Internet. Now it actually matters; the things that I put out people actually pay attention to it. Like, 50 Cent knows who I am. That's an accomplishment. That's what I work for. Now it's all about capitalizing and monetizing what we're doing. I got some powder moves on the way.
Where can the people go to follow your movement?
TroyAVE.com has everything. Get up to speed so you can sit at the cool table with everyone else.
So if someone asked me "who is Troy AVE?" what would be the first thing you hope I would say about you as an artist.
That he's incredible; he's incredible and he's credible. People can say what they want, but they're not going to say that my music is wack or that I'm a sucka. Whatever else people want to say after that is cool.
As long as they know that you're incredible and you are credible.
Uh huh.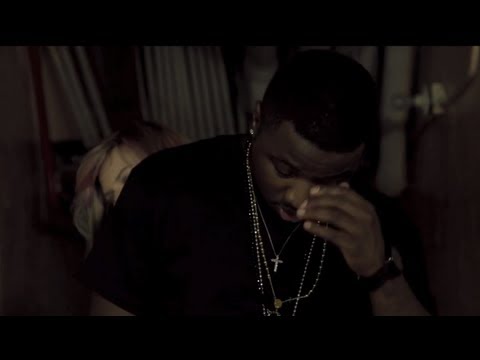 Latest posts by Queen Bobbi (see all)